Archive for the 'website' tag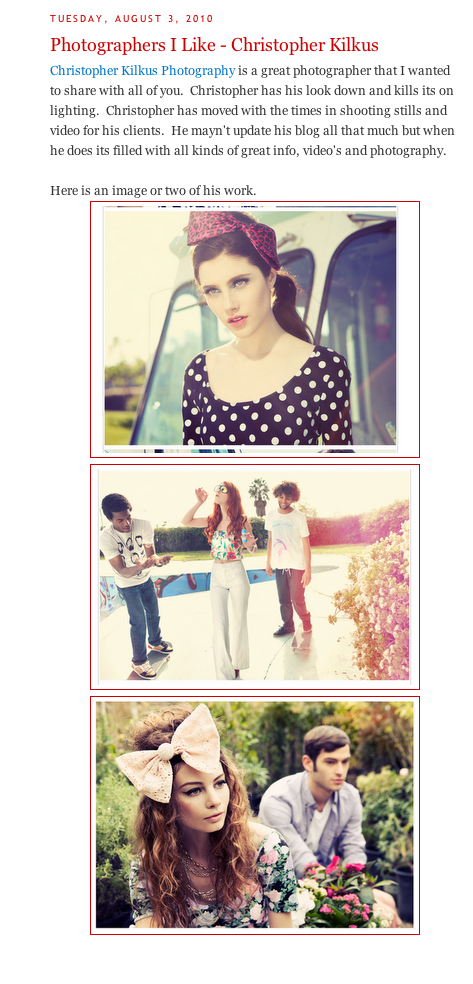 Just came across this blog post about me by the photographer John Hildebrand from Malibu, California.  Thanks John!  Very nice of you to say. Check out his work at www.johnhildebrand.com He has a really nice beachy vibe to his work that I love, and he does quite a mix from fashion to architecture and landscapes.
That is actually something I learned through working in other markets around the world, it doesn't always pay to specialize in one thing.  I know as new photographers we have all heard you need to develop a singular style in a specialty, this will make it easier for clients to understand where you fit into their market.  And that is true if you are in a big market like New York.  But if you are a photographer in a small market, you often have to do a bit of everything to maintain a successful business.  When I was living and working in Manila and Bangkok, I was doing it all….. from fashion, to ads for aspirin brands, interiors for hotels, even product shots of cereal boxes!  So, just keep in mind that a lot of what you do as a professional photographer is dependent on the market you are working in.
He mentioned that I don't update my blog all that much….. it's true! I haven't been as good at keeping you updated, so I promise to devote a little more time to this blog.  And I also noticed that the photos that John used in his post about me still haven't made it into my portfolio site!  I've been behind on getting things retouched and into my portfolio…… I've had about a six month back log of images that I just didn't have time to get to!  Hopefully I'll get all the new work onto the site in the next couple weeks.  Yet another reason to stay tuned 🙂
I just came across this post about me on the blog of Angel Acevedo, an art director in Miami.   Check it out at www.angelaacevedo.com And check out his portfolio too, very nice stuff.
He called me "the mysterious photographer that has single-handedly branded that Heritage 1981 style".  That is very flattering!  But it also drives home the fact that I really need to promote myself more!  I don't want to be a mystery to all the clients out there!
It's good timing since I am just in the process of doing a major promotional campaign…. pretty much for the first time in my career.  So far, I've been lucky to get my work through word of mouth and blind luck.  I haven't even had a real portfolio for the last year or two!!  I know, I'm embarrassed to admit it.  But it's also been the busiest two years of my career… go figure!
This year I'll be doing all sorts of promotion, from sourcebook ads to promo mailers.  And I'm finally getting my branding done.  It's definitely been a learning experience, and I'll be excited to share some of the details of the process with you once it's all in place. Stay tuned……
You may have found my blog via my new website, but if not visit it at www.kilkus.com  After 8 years of making my own very basic HTML website I finally decided to let the pros do it….. after all, I didn't get into photography to become a web designer!  
I signed up with www.aphotofolio.com, a very nice service from Rob Haggart, the former Director of Photography for Outside Magazine.  He also has a great blog about the photo industry at www.aphotoeditor.com/ 
Of all the services out there like Livebooks, Clickbooq, et al. A Photo Folio seems to have the best design options and management for the price.  My first choice was to have a web designer build a site from scratch…. but after starting the process back in July and nothing substantial getting done as of November… I finally gave up.  Web design seems to attract some flaky people!
But with that said, there are some great advances in HTML websites for people on a budget.  It's now easier than ever to publish your own professional looking website for almost no expense thanks to www.indexhibit.org/  You can make a cleanly designed, slick and professional site that's is perfect for displaying portfolios of all kinds.
But with A Photo Folio, I have a site that takes very little time or brainpower to keep updated, with an interface that is so easy I can have one of my assistants update it without any training.