Archive for the 'blog post' tag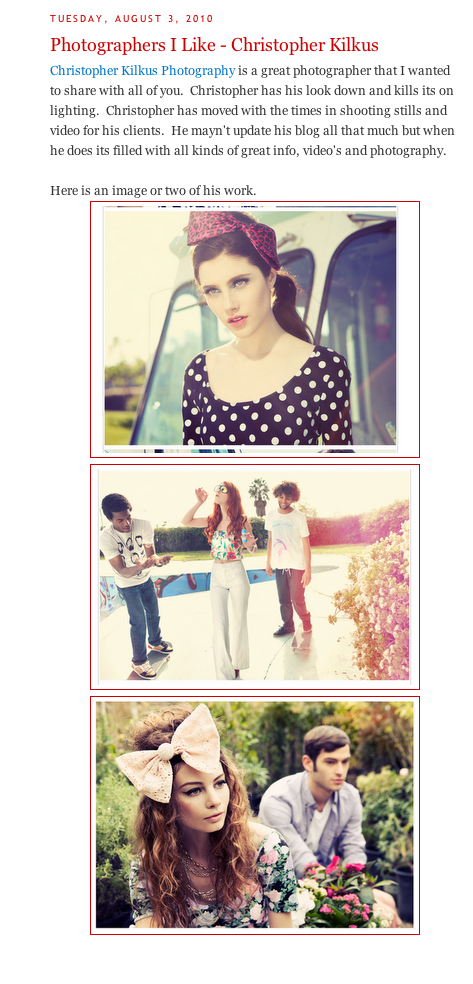 Just came across this blog post about me by the photographer John Hildebrand from Malibu, California.  Thanks John!  Very nice of you to say. Check out his work at www.johnhildebrand.com He has a really nice beachy vibe to his work that I love, and he does quite a mix from fashion to architecture and landscapes.
That is actually something I learned through working in other markets around the world, it doesn't always pay to specialize in one thing.  I know as new photographers we have all heard you need to develop a singular style in a specialty, this will make it easier for clients to understand where you fit into their market.  And that is true if you are in a big market like New York.  But if you are a photographer in a small market, you often have to do a bit of everything to maintain a successful business.  When I was living and working in Manila and Bangkok, I was doing it all….. from fashion, to ads for aspirin brands, interiors for hotels, even product shots of cereal boxes!  So, just keep in mind that a lot of what you do as a professional photographer is dependent on the market you are working in.
He mentioned that I don't update my blog all that much….. it's true! I haven't been as good at keeping you updated, so I promise to devote a little more time to this blog.  And I also noticed that the photos that John used in his post about me still haven't made it into my portfolio site!  I've been behind on getting things retouched and into my portfolio…… I've had about a six month back log of images that I just didn't have time to get to!  Hopefully I'll get all the new work onto the site in the next couple weeks.  Yet another reason to stay tuned 🙂