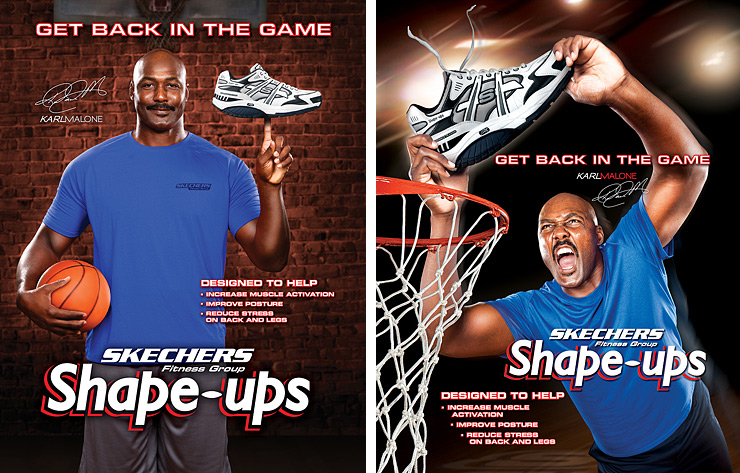 I had the opportunity to shoot with NBA star Karl Malone for Skechers, and what a fun shoot!  Karl is known as The Mailman because he "always delivered" during his 19 career for the Utah Jazz and Los Angeles Lakers.  And despite being a sports superstar, he really is one of the friendliest, most humble and hospitable people you could hope to spend time with.
We flew in with the wonderful crew from Skechers to Louisiana to shoot with Karl near his home.  For this shoot we had to fly in ALL of our equipment since there were no nearby rental houses.  It's not a big deal since we have our entire photo kit packed up in Pelican cases.  One for lighting, one for stands, one for grip, and one for digital… cameras are always carry on of course.  The only thing that becomes a challenge are sand bags… who wants to pay hundreds of dollars to fly sand around!  I've tried those travel sand bags that you can fill up with water or dirt when you get to the location, but they are so dirty to deal with and aren't really heavy enough anyway.  So what was the solution?  You have to love this… my assistant Marco came up with the idea of buying masonry bricks when we got to town.  Brilliant!  Picked them up at the local Home Depot for about $3 each, which saved us hundreds of dollars in airline excess baggage fees!  See them in action in the behind the scenes photos below.
We converted the local indoor basketball court into our photo studio.  Another thing we do is put tennis balls on the bottom of our lightstands and tripod to protect floors from getting scratched up, something the location people really appreciate.  We picked these up at the local WalMart… this is Louisiana so it was right next door to the Home Depot!
All in all, we had a great shoot with a great crew and client, and had loads of fun trying out the local cuisine and exploring the area.  See the evidence below 😉
Karl mugging for the camera and the wonderful Skechers and Photo crew.

Karl is an avid hunter, it almost takes on a spiritual element for him… love his fully camouflaged truck and jacket!  And for comparison sake, I am about 6'3″ and he towers over me!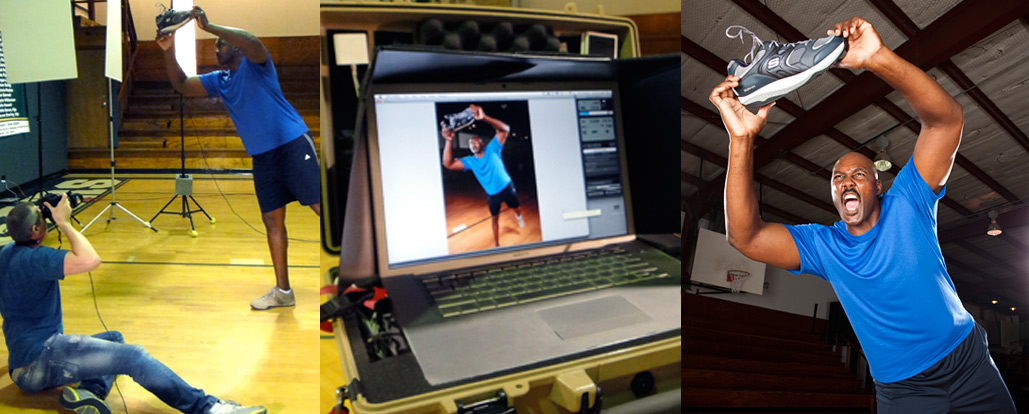 Here is the raw capture of the final ad.
Some more behind the scenes below of us having too much fun on the shoot. Karl pointing out a hole in my pants! And those are Karl's pants that could fit TWO of our client inside them! And if you are curious he wears a size 16 shoe.
One Response to 'Shooting Karl "The Mailman" Malone for Skechers'
Leave a Reply