Archive for the 'Tech' Category
I am frequently asked what lgihting, grip and camera equipment I use, so I thought I would share about this.  You might be surprised to learn what my preferences are!
I am very far from being an equipment geek.  If something is inexpensive but does a good job, I'll use that over an item that has a name.
FROM B&H
As a working photographer, the center of the universe is your camera bag and its contents. Your cameras and lenses are the tools of your trade. As you may have noted, both are mentioned in plural because just as you wouldn't jump out of an airplane without a backup parachute, you shouldn't attempt to photograph an emotionally spiked, non-repeatable event armed with only one camera. The same applies to lenses, too. The many aspects that comprise shooting weddings—portraits, the ceremony, dimly lit environs, tight, crowded quarters and bright outdoor settings—can push both the creative and practical limitations of the most experienced photographers.
Cameras and lenses aside (see our separate sections on Cameras and Lenses) there are a number of other items that should be part of all wedding photographers' war chests. Having these items on hand and knowing how to use them can make the difference between a great wedding album and one that's mundane.
Tripods
It is essential to have a sturdy tripod at your disposal when you are photographing a wedding, for situations in low light, or when you have to compose formal group shots. If you place a remote-triggered camera in the chapel balcony, you'll need to mount it on a tripod, or perhaps use a Super clamp or similarly adjustable clamp, with 1/4″-20 or 3/8″-16 camera threads. It's a great idea to have a small tabletop tripod with you as well, which can help you steady a shot atop a table or other horizontal surface. One of these can also help when you need to brace the camera vertically against a wall or other architectural element to obtain images free of the blur associated with operator movement.
For more information about choosing a tripod, please refer to our Tripod and Tripod Heads Buying Guide.
Flash Meters
For ambient light readings, the meter in your camera can be quite sufficient. Flash metering is another story, especially if you are using flash to fill backlit subjects or darken background areas to place more emphasis on the subjects in the foreground. You can always shoot test exposures and review them on your camera's LCD, but a more professional and certainly more precise method of establishing accurate flash exposures is by using a flash 
meter.
One consistent characteristic of flash meters is that even the least expensive of them can establish both ambient and flash exposures—reflective or incident—down to 1/10-stop in accuracy, wirelessly or tethered. When you are dealing with the broad contrast range presented by men's and women's wedding clothes, it is important to consider the benefits of taking incident readings with a handheld light meter. Incident readings measure the amount of light falling on the subject, rather than the amount of light reflected from the subject. In most cases, incident readings, which read the light in terms of neutral, 18% gray values, will provide you with accurate average exposures regardless of whether your subjects are wearing white gowns, black tuxedos or brightly colored bridesmaid dresses.
Sekonic goes one step further by offering the option of incorporating PocketWizard wireless triggers into many of their flash meters, which enables you to "walk the set" in order to establish flash and ambient exposure readings from any position within the frame. At B&H, we stock a variety of flash meters from companies including Sekonic, Gossen, Shepherd/Polaris, Interfit, Wein and Kenko.
Wireless Remote Triggers
When it comes to taking pictures in crowded environments, the fewer cables you have strewn about the floor, the better. Every cable you can eliminate is one less worry about a guest tripping and falling. Wireless remotes can be used to trigger your main and fill flashes and your cameras. Many wireless remotes feature multiple channels or frequencies, which is a valuable feature if you're shooting in close proximity to other photographers using wireless triggers or when you need to trigger different groups of your own lights.  By coordinating channel selections, everybody can perform their duties without interfering with the other photographers' agenda.
For shooting in "photographer-rich" environments such as catering halls hosting simultaneous weddings, each with its own photographer—or such as when you and your assistant are capturing alternate views of the same wedding with two cameras—the PocketWizard MultiMax offers a choice of 32 channels, while the Pearstone Wireless Shutterboss Remote Timer offers 99 channels. You can also use the multiple-channel feature to trigger multiple sets of electronic flash units independently from each other, which is particularly handy when those setups are being used simultaneously. Available individually or in sets, radio transmitters, receivers and transceivers are available from PocketWizard, Quantum and Elinchrom. Keep in mind that a remote trigger can become almost as useful as an assistant when used to trigger a tripod-mounted remote camera with a wide-angle lens in the church balcony, for example, capturing the  aerial views of the ceremony.
In addition to the radio-slave offering from Elinchrom, Quantum and Pocket Wizard, we also stock the Impact PowerSync 16 DC Radio Slave System, a very affordable battery-powered (AC optional) wireless trigger system that offers a choice of 16 channels and a range of up to 590′ (180 m) indoors and up to 200′ (60 m) outdoors.
Dedicated and generic wireless camera triggers are also available from Hahnel and Dot Line, and many of these remotes are also available in multi-channel models. Dedicated wired and wireless remote controls are also available from Nikon and Canon.
Battery Grips
Battery
 grips are advantageous for several reasons, but are primarily valuable because they sport secondary shutter release buttons and command dials, which make it ergonomically easier to orient your camera vertically. Battery grips also add an extra measure of grip-ability, which is an especially welcome feature for ensuring a positive hold on your camera. Because battery grips hold dual batteries, you can expect to make twice as many exposures before having to replace your camera's batteries. Depending on the make and model, many battery grips also offer the option of powering with standard AA batteries, which can prove to be a lifesaver when the party is still raging on and all your rechargeable batteries are spent. Vello offers a range of battery grips to suit a number of popular DSLRs, such as the Canon 5D Mark II and 7D, as well as Nikon's D7000 and D5100.
Filters
Even though the White Balance controls are built into every digital camera, not to mention the fact that the post capture color-correction tools found in almost every photo editing program have reduced the need for color compensating (CC) filters, there are some filters that simply cannot be dialed in from the comfort of your camera's menu selections. Included among these filters are Polarizing, UV (ultraviolet reduction), Neutral Density (solid, graduated, or center ND) and diffusion filters.
Polarizing filters, which in terms of wedding photography are primarily used for outdoor scenes, are designed to eliminate glare, reflections in polished surfaces, glass and water and make clouds pop from darkened blue skies. They are great to use if your wedding party is posed beside a body of water or a glass-walled urban structrue. To eliminate stray light from striking your lens, always use a lens hood. Do take care when using a polarizing filter on a wide-angle lens; the amount of polarizing effect is directly influenced by the lens's angle to the sun, and this combination of lens and filter can cause your sky to vary unnaturally from light to almost navy blue.
UV filters serve their purpose both indoors and out. Indoors, UV filters temper the degree of UV radiation that might be generated by your electronic flash tubes. Though invisible to the human eye, UV can leave a bluish cast in your images under certain types of lighting.
 Regardless of whether you are shooting indoors or out, using UV filters is an effective way to protect the front element of your lens. Another option for protecting the front elements of your lenses is to use clear protection filters such as the Hoya Clear Pro 1 Digital Multi-coated filters and Nikon's NC Glass filters. There are a number of electronic filters on the market that allow you to layer filter effects to your photographs, post capture, and many of them work quite well. The exception are software-generated Polarizing filters, which only serve to saturate color, but cannot remove reflections and glare, which can only be achieved at the time of capture.
Neutral density (ND) filters are essentially neutrally tinted filters that enable you to reduce the amount of light entering your lens so you can alter your shutter or aperture settings in the same light. ND filters come in handy when you need to reduce the output of your lighting system beyond its existing low-power setting. ND filters are also an easy solution for shooting at wider apertures in bright light in order to take advantage of selective-focus effects.
ND filters can be handy for adding suggestions of movement in an otherwise static photograph. As an example, with a 3- or 4-stop ND filter in place, you can pose the newlyweds in front of a waterfall and turn the waterfall into a creamy blur by slowing your shutter speed, while the couple holds stock still and remains tack sharp. This technique can be used with any moving background or foreground, with striking results. This is also a handy way to eliminate otherwise distracting moving elements in a picture.
In addition to standard ND filters, Variable ND filters are also available, which allow you to change the degree of neutral density by 2-8 stops, simply by rotating the outer ring of the filter. This can be a huge time saver while shooting under the gun.
Diffusion filters should be part of every portrait and wedding photographer's outfit. Designed to soften the skin tones and create a dreamy haze, diffusion filters are available in numerous degrees of textures and patterns, which can flatter the complexions of people who don't resemble the high-fashion models we're used to seeing on magazine covers. If you want to soften facial features, smooth lines and wrinkles without the dreamy haze-like effect, try a soft-focus filter. These are especially flattering for portraits. When using diffusion and soft-focus filters, it's always a good idea to go easy on the amount of softening you employ, as too much diffusion can be as distracting as none at all. So be judicious. Tread softly.
Tiffen FX-series diffusion filters are available in a number of configurations including "black diffusion" filters, which soften the image without reducing the overall contrast levels of the photograph. Many Tiffen FX-series filters are also available in a choice of warm-tone and neutral tone.
Filters are available in a range of quality levels, and with the possible exception of diffusion filters, you should always use higher-quality filters on your lenses in order to maintain the sharpness levels of the lenses you paid hard-earned money for the pleasure of owning and using.
Batteries
When it comes to photography—especially digital photography—batteries make the world go round, and when you run out of juice, your world basically comes to a halt. This is not a good thing when you're out on a job, wedding or otherwise. For this reason it's obligatory that you have, at the very least, a complete set of back-up batteries for every item in your bag that uses batteries.
Although most cameras are powered by dedicated lithium-ion rechargeable batteries, accessories such as flashguns, transceivers, etc., still rely on AA, AAA, 9V, C, D and any number of button-type batteries. At the very least, you should always carry a minimum of one spare set of batteries for each of your battery-powered devices.
At B&H we stock an extensive assortment of dedicated rechargeable camera batteries for most popular cameras and dedicated flashguns. If your batteries are rechargeable, make sure the chargers are also packed and readily accessible. An appealing option for efficient charging is Pearstone's Duo Battery Charger, which allows you to charge two batteries at a time and mix and match types or brands of batteries.
Easy access to AC power outlets is another big concern, and to ensure you're never caught short, it's highly recommended that you carry at least one AC extension power cord for each AC-powered device you will be using during the course of the day. Though available in a number of colors and lengths, it makes the most sense to stick to 25′ or 50′ lengths, many of which are available with triple outlets that enable you to tap up to three packs or devices into each cord.
Depending on your gear and the state of the electrical system you will be working with, it's not a bad idea to include a few surge protectors, which are available in a number of configurations, as well as a few multi-voltage adapters/converters if your plans include shooting across international borders.
Gaffer Tape
Sometimes a simple strip of gaffer tape can make the difference between a minor hiccup and a total disaster. Available in a number of widths (3″, 2″, 1″ and ½") and colors (black, white, gray, red, yellow, blue, fluorescent green, fluorescent orange, fluorescent pink, fluorescent yellow), gaffer tape can be used for taping cables securely along the floor, quick repairs of gear, securing cases for shipping and any number of other uses. Gaffer tape in colors can also be used to identify your gear quickly in terms of where it goes when packing up, or in the case of shooting with multi-channel lighting systems, color-coding individual channels and related gear for syncing purposes. Gaffer tape is a thinking photographer's solution.
As we mentioned in the section above on wireless triggers, even though we live in an increasingly wireless universe, we still have to deal with cables. To ensure that nobody trips over them, we suggest that in addition to gaffer tape, you include a few rolls of Permacel/Shurtape Cable Path Gaffer Tape in your kit. Available in 4″ and 6″ widths (x 30 yards), this extra-wide yellow gaffer tape features a glue-free center channel that allows you to secure long runs of lighting and sound cables to the floor, without the hassle of wrestling the tape from the cables when you're finished for the day.
A reusable alternative to taping cables to carpeted surfaces is the Safcord Cord & Cable Protector, which is available in a choice of 3″ x 6′ and 4″ x 30′. Made of industrial-grade Cordura Nylon, Safcord Cord & Cable Protectors use hook-and-loop touch fastener material instead of adhesive to securely hold cords and cables to carpeted surfaces. When you're finished, all you have to do is pull the strips from the floor, roll them up and tuck them away until your next gig.
Memory Cards
You can never have enough of them, and the faster the read/write speed, the better. Hi-speed memory cards keep shrinking in price while growing in capacity. If the read/write speeds of the newest cards are faster than the read/write speed of your current camera, this only means it will be an ideal match for your next camera, which will undoubtedly outstrip the camera you currently own in terms of processing speed. 
The same school of thought goes for the storage capacities of your memory cards. Today's cameras capture larger file sizes—and sometimes multiple files simultaneously—not to mention video, which eats up memory like there's no tomorrow. So when contemplating your next card, remember it wasn't all that long ago a 1GB card was a big deal. Make sure to use cards with as much memory as is compatible with your camera. If you are going to capture large RAW files and "process" them in some sort of post-production software such as Photoshop or Lightroom, it might be wise to research cameras that sport dual card slots and the ability to write to both cards, for backup.
With the exception of portraits, capturing rapid action photo sequences without missing a beat requires using cards that can process large image files as fast—or faster—than your camera can capture them. Some of the fastest CF cards we currently stock at B&H include SanDisk's Extreme Pro-series CF memory cards and Lexar's 400x and 600x Professional-series CompactFlash cards. For cameras using SD series memory cards, the fastest of the lot currently include Lexar's Professional SDHC/XC memory cards and SanDisk's Extreme Pro SDHC and SDXC memory cards.
JPEGs are fine for snapshots, but if you are going to present a finished portfolio of images with as much color, dynamic range and detail as possible, you'll want to shoot and process RAW files, which take up a great deal more space and beg for larger-capacity memory cards. JPEGs, which don't contain as much visual information, take up less space but leave off where RAW files begin, quality-wise.
Storage Devices
With the speed and storage capacities of memory cards steadily increasing, incessant card-swapping and data backup may not be as critical as it was not too long ago. It's comforting to know your back is covered if anything should happen to your cards during or after the ceremony and reception. 
Once you fill your memory cards, you have to do something with the image files each one contains before you reformat a card and pop it back into your camera. For storing these image files you have several viable options, some of which require the use of a laptop, netbook or tablet containing a built-in card reader that's compatible with the card format you are using (i.e. SD, CF, Memory Stick, etc.). You can also use a USB or FireWire port for attaching a storage drive or a receiver. You can even transmit image files to your drive or laptop wirelessly.
If you'd rather bypass a laptop, netbook, or tablet, there are also stock portable hard drives available with built-in card readers and LCD screens for reviewing your pictures, from companies including Wolverine, Digital Foci and Jobo.
USB and FireWire-enabled portable storage drives, which currently sell for as little as (or under) $100 for 1 terabyte of storage space, are quick and easy solutions for backing up or archiving images. Your files can also be stored temporarily on your laptop, netbook or tablet's hard drive.
One company that's been gaining attention in the world of on-the-fly data storage is Nexto DI, which manufactures a nice selection of high-performance portable storage drives in capacities of up to 750GB, many of which contain LCD screens for reviewing and editing image files downloaded from your memory cards. Depending on the model, Nexto DI storage devices are shock and drop resistant, can transfer data to other devices and burn data to Blu-ray Discs, recover bad sectors and support a number of memory-card formats including Panasonic P2/P2E cards, UDF and FAT32 memory cards.
If you think you are going to be really piling up the megabytes as you photograph the wedding, and your cameras of choice include certain Canon DSLRs, you also have the option of using Canon Wireless File Transfer transmitters, which enable you to upload image files to a notebook computer for backup and extra storage space, as you shoot. And if you're shooting with another brand of camera, don't forget about Eye-Fi cards, which can transmit your photos to your external hard drive or laptop wirelessly, allowing you to maintain open space on the card. Another option favored by wedding photographers is to upload captured image files to any number of cloud-based servers, which can be edited and made accessible to the clients for their enjoyment even before the festivities have ended.
Posing Stools
Posing stools are worth considering because they are less obtrusive and easier to use for posing purposes than the chairs you're likely to find at the catering hall or the local VFW. Narrow in profile, swivel-based and adjustable in height, posing stools allow you to pose individuals and couples with a great degree of fluidity and flexibility. Most of these posing stools can be broken down for easy transport. Posing stools are available from Impact, Photogenic, Norman and  Delta 1.
Camera Lens/Sensor Cleaning Kits
The truly important guidelines of proper camera user maintenance involve keeping your camera's lenses, imaging sensor and LCD smudge free, all of which involves checking your gear before, during and after every assignment. Happily, B&H is your source for both cleaning cloths and LCD screen protectors.
Maintaining smudge-free lenses—specifically the front and rear elements—is a relatively effortless affair. To remove incidental dust particles, a camel-hair brush is often sufficient, and assuming the brush is clean, camel-hair brushes don't leave any residue behind. You can also use an air blower to remove dust particles and grit. Most lens smudges can be easily eliminated by simply breathing on the lens surface and wiping it clean with a microfiber cloth. Repeat the breathe-and-wipe process once or twice if needed, or if the smudges are more tenacious, go the heavier-duty route with a lens-cleaning kit. For more stubborn smudges, a good lens-cleaning kit can be a lifesaver. Apply the lens-cleaning solution to your cloth, not directly to the lens, and wipe in gentle, circular motions—never apply lens-cleaning solution directly to the lens surface. A few drops applied sparingly to a microfiber cloth should be more than sufficient to remove almost anything. Cleaning kits like these are indispensible for ensuring clean lenses and crisp image capture and are available from a number of manufacturers.
For cleaning smudges from the harder-to-reach edges of the lens elements, try applying a few drops of lens-safe cleaning solution to a cotton swab and gently swipe the dirt from its hiding place. Many kits also contain baster-like air blowers, which are also handy for clearing dust off your camera sensor. Never use canned compressed air to clean your sensor!
Even if your camera has a built-in dust-reduction system, inevitably a bit of dust or two will find its way onto your camera's mirror or imaging sensor. If you see fuzzy dark spots when you peer through your camera's viewfinder, the villains are on the mirror. These particles can usually be blown away easily by removing the lens and, with the camera pointed face-down, blowing the dust off the mirror's surface with a few blasts from one of the baster-like air blowers we sell at B&H. Follow up by cleaning the particulate matter from your camera sensor—carefully—with any one of a number of comprehensive sensor-cleaning kits.
If you are going to use sensor-cleaning kits, it is imperative that you read the instructions thoroughly and follow the manufacturer's recommendations in order to avoid damaging the camera's imaging sensor. It's a good idea to clean your gear after every event, followed by a quick check before the next job, because you have better things to do the day of the event. And don't forget to hold your camera with the sensor pointing at the floor when you're changing lenses. Dust tends to descend more often than it ascends. You should avoid touching the mirror surface with your fingers, cotton swabs, or anything else at all costs, because unlike the mirrors in which we admire ourselves when nobody's looking, the mirrors in our cameras are surface-coated and as such can be easily scratched and otherwise permanently damaged. Keep fingers away from the camera sensor, too, which is sensitive to abrasion as well as the grease and oils on your skin.
Often overlooked, but important nonetheless, is cleaning the contacts of your memory cards. Grit and work-a-day greasy stuff can render your memory cards undependable, and when you're shooting a one-time happening, you don't want your cards to hang up on you. In order to minimize the chance of compromised data transmission between your camera and memory card, it's a good idea to clean the card contacts regularly with a 
memory card cleaning kit, such as the Kinetronics Memory Card Contact Cleaning Kit.
Ladders and Stepladders
One of the tricks of grabbing successful photographs at crowded events such as weddings is to rise above the occasion, which is easily accomplished by climbing a few steps up a ladder or stepstool. B&H stocks a number of ladders, both single-sided and double-sided, in 4′, 6′, 8′, 10′ and 12′ heights that enable you to catch imagery you probably couldn't get standing flat-footed on the floor.
Folding Reflectors
Folding reflectors for bounce lighting, which allow you to fill shadows and perform a variety of lighting effects using ambient or studio light, are invaluable indoors and out.  Available in a number of shapes and sizes (circular reflectors 12″ to 60″ and curved, rectangular reflectors measuring 24 x 36″, 36 x 48″, 41 x 74″,  42 x 72″ and 48 x 72″), folding reflectors are configured in a combination of gold/silver,  gold/white,  silver/white or gold/silver/white. Depending on the tone of the reflector, you can open up shadow details with soft-neutral, contrasty-neutral or warm-toned illumination.
For softening harsher, overhead midday light, try using a translucent diffuser panel (also available in circular and rectangular formats) between the sun and your subjects. Because folding reflectors and diffusers are extremely light and fold down to about a quarter of their full size, they're easy to pack and transport. Don't leave home without one… or two!
Reflectors and diffusers can be invaluable lighting tools on the big day, but there's not always a spare set of hands available to hold them in place. An effective substitute for an assistant is a reflector holder. Available with and without an accompanying light stand, reflector holders are available in a number of designs from close to a dozen manufacturers. Two popular (and quite affordable) models are the Impact Telescopic Collapsible Reflector Holder (holder arm only) and the Impact Multiboom Light Stand/Reflector Holder, which includes a 13′ stand.
Flashlights
Small, pocket-sized flash
lights are essential for retrieving small accessories that inevitably find their way into hard-to-find creases in the corners of your camera bag. This is especially true in the bottom of a black bag when the lights are low, which at many weddings, is par for the course. Make sure everyone assisting you has a flashlight tucked away in easy reach. LED flashlights are extremely bright for their size, and drain batteries much more slowly than incandescent lights do.
Leatherman Tool
Stuff happens, and when it does it's nice to have a tool handy that can help rectify the problem. Because it's not practical to haul around a wheeled, four-drawer Craftsman tool chest, many on-site glitches can often be remedied with the aid of a Leatherman multitool. Available in a number of configurations, your investment will have paid for itself the first time you need it… and as any seasoned pro can tell you, sooner than later, you're going to need one.
Two-Way Radios
When it comes to weddings it's not unusual for two or more important photo ops to occur simultaneously, and often with little or no warning, which makes communicating with assistants extremely important. To make certain that one-time photo ops aren't missed, it's a good idea for everyone on the photo team to be issued a two-way radio in order to keep communication flowing, which at wedding speeds is a top priority.
Essential and Incidental
To complete your gear checklist and possibly even save the day, make sure you always pack other items in your bags, such as a sewing kit, a first-aid kit, a notepad and pen, safety pins, straight pins and bobby pins, snacks, water, umbrellas, even hairspray—should a windy day threaten a bride's hairdo.
What are some of the essential items you pack in your kit? Feel free to let us know in the Comments section below.
Check out the post over on ambushpro.com about my friend Christian Stoehr's Color Grading Reel.  One of the big problems with shooting video on the Canon 5d is that you don't have much leeway in post on color and exposure adjustments….. but it's amazing to see what how far he was able to take some of the footage we shot together!
Color Grading Video Footage at Ambush Production Blog
I've owned the Canon 5D series of cameras since their introduction. It was a back up for my 1ds MarkII and later 1ds MarkIII. And it was also a nice camera to have for just playing around or going on vacation… compact and lightweight, but still with a full frame sensor. When the MarkII was introduced it also took over as my main motion camera. But the 1ds MarkIII was the ideal camera for my fashion and advertising photography.
So I was really looking forward to a new version of the 1ds coming out with hopefully a larger buffer and a faster tether connection that would give me the ability to shoot even quicker.. an important part of capturing the energetic style of lifestyle and fashion photography that I do. And a few more megapixels would have been nice too since some ad clients get nervous about not having enough information to work with.  What I really wanted was for the 1ds MarkIII to up it's game and go after the medium format digital back market, but in the fast and compact package of DSLR.
Well, what a let down when the 1dx was introduced! I wrote a blog post here about my feelings on the new camera…..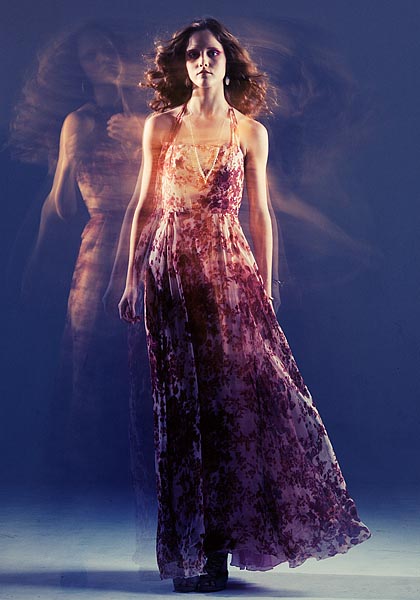 A few days ago I posted some images from a recent editorial shoot that had clean and classic studio lighting.  Here are some unretouched images from the light test I did the morning of that shoot to show the client a completely different direction we could take it.  The client chose to go for the more classic lighting which totally makes sense because that is their market.  But it was great they gave us the opportunity to play around a little and show them some other options.
My number one goal on a job is to make the client happy……  that means that sometimes I don't get to shoot each job exactly the way I want. It's  just the reality of being a working photographer.  But it's fun to play around a bit when given the opportunity.  After all, deep down we are all artists in the photography world no matter how commercial our work is, so having the opportunity to push the creativity is really satisfying.
That is why one of the best ways to develop as a photographer is by doing as many shoots just for yourself as possible. Test, test, test!  Nick Onken wrote a great post about this subject on his ShopTalk blog.  He calls it Always Be Shooting, or his ABS Philosophy.  Also here is a great interview with Nick from Rob over at aphotoeditor.com I definitely need to adhere to this philosophy a little better, it's tough to follow when you are busy with jobs.  But more than ever it's really the way to develop your career.
For you techies, the look in these images was created by using a mix of strobe and tungsten hot lights with a slow shutter speed.  We were probably shooting around a 2 second shutter speed which captured the ghosted movement of the model in the tungsten lights, and then we would manually pop the strobes once or twice during that exposure to get that clearly frozen image.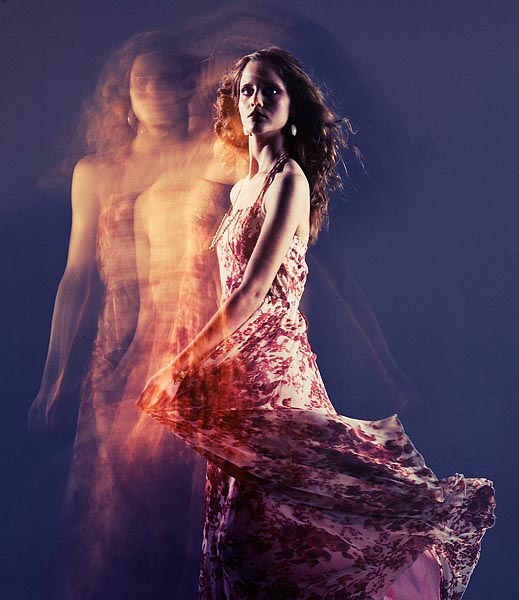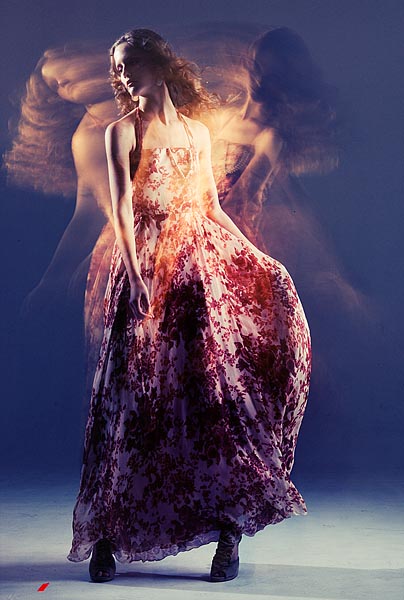 I love the Canon 5D MarkII, it helped open up a whole new world of filmmaking for me. But it definitely has drawbacks for motion work which can require a lot of frustrating work arounds.  The next step up from the HDSLR has been the RED cameras, which are amazing products that have been used on many major motion pictures.  But for smaller projects, or ones that require moving really quickly like most of what I'm working on, the RED can be quite cumbersome.
So I have been watching with anticipation the development of new class of cameras, the best example is the Sony NEX FS100. Some people consider it an HDSLR killer, but to me it looks more like a "bridge" camera….. more professional than an HDSLR, but not as cumbersome as a RED.
Canon will really need to step up their game if they want to compete, but the rumor is that Canon isn't going to do it with an HDSLR suchs as the 5D MarkIII… instead they will introduce a competitor for the Sony NEX FS100 from their video line of cameras.
We'll see if Canon get's it right, but anyway it's going to be really exciting to see how all this develops over the next year.
Here is a great post about the Sony camera from Zacuto
You can pre order the camera (and check out specs) at B&H
And Check out the Den Lennie's video below for a more in-depth review of the Sony NEX-FS100.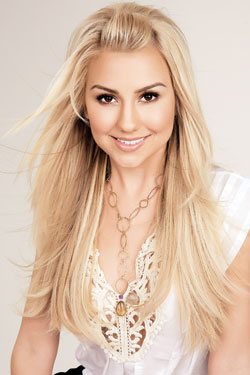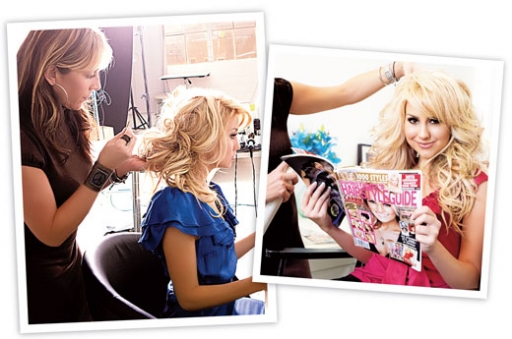 I was browsing around online this morning and came across these photos….. They looked vaguely familiar, and then it dawned on me… I shot these!  I completely forgot about this shoot.  It was a couple years ago at my old studio in downtown Los Angeles with Chelsea Staub, one of the Disney Channel's music, TV and movie stars.  We shot for Sophisticate's Hairstyle Guide magazine.
One interesting thing I remember about this shoot was that the client couldn't actually come to the shoot, so we set up a computer with a webcam pointed at the set so she could watch the shoot from her office in Chicago.  We gave it an angle so she could see both Chelsea on set, and the computer monitor so she could see the images as we captured them.  We even had microphone and speakers so we could easily communicate with her as we shot.  It actually worked really well, it was like having the client sit on set with me like any other photo shoot.
Could this be a trend in the future, clients managing photo shoots remotely from webcam?  They can even use a remote controlled webcam robot like this to roam around the studio and peek in on the styling, and make sure hair and make-up is moving along smoothly, even chat up the crew by the catering table.  Or imagine an advertising job with a whole group of clients attending remotely…. you could have a half dozen of these little robots running around the studio!  Okay, that might get a little annoying.  But on the bright side, if the client's robot get's in the way you can always just pull the batteries out! 🙂
Urban Planet Fashion Video from Christopher Kilkus on Vimeo.
Here is our latest video for Urban Planet, shot at the same time as we shot the still campaign.  What a challenge to get both a still campaign and video done in the same day!  Luckily, I have a great team and we pulled it off really well.  We ended up doing over 20 still shots, and this video, all within 8 hours on a painfully humid day in upstate New York.
Again we shot this on two Canon 5d MarkII cameras using a tripod, slider, and Redrock cinema rig.  We left the steadycam at home again. It would have been nice to use on some of the shots, but we had to move so fast we just wouldn't have the time to switch over to the steadycam anyway.  Our light package was beyond simple, just two Lowel Omni lights and whatever light we could suck out of an overcast day.
I edited this video by myself too, I'm definitely getting more comfortable with that process.  It's probably the most important skill to learn for any still photographer that is getting into motion.  It's like putting a puzzle together and can be really enjoyable…. though it's a long process, something that I have to keep in mind when getting booked on these jobs.  A one day video shoot can turn into one solid week of editing, and that doesn't leave much room to be working on other jobs.
Check out that kiss at the end of the video…. WOW! That's Rachelle from NEXT Models, she's fantastic on set and doesn't hold anything back! 🙂
Here is a campaign we did for Forever 21 in the studio.  They asked for a different lighting look than we normally do to set this campaign apart slightly.  We settled on this backlit lighting scheme that gives us a really bright high key look overall, with lot's of softness from the flared lights.  It's actually a really simple set up, we pour tons of light onto our white background, and then only use reflection to bounce all that light back onto our model.  Then it's just a matter of balancing the bright back lights with the right amount of reflection to dial in the look.  I've used this lighting for fashion editorial, where the pictures are more about mood than about clothes….. in that case we really let the backlights flare so they wash out a lot of detail on our subject…. it gives it a wonderfully soft and ethereal glow.  But since this was a retail fashion campaign I didn't want to wash those details out……  the creatives would have loved the look, but the CEO might question how they are selling clothes when you can't see any!  The trick with fashion advertising is to find that balance.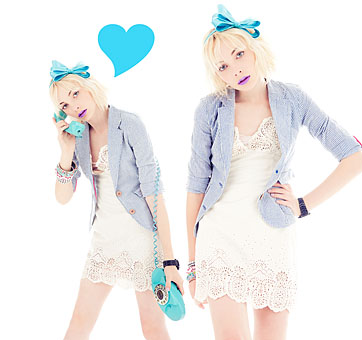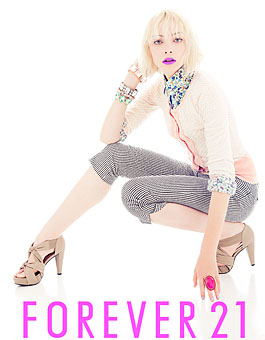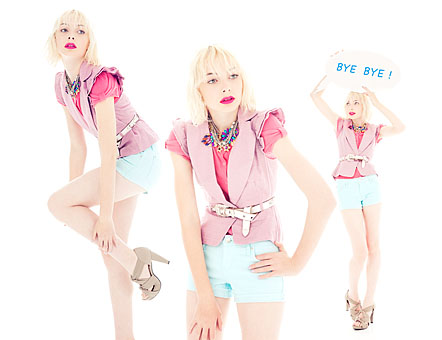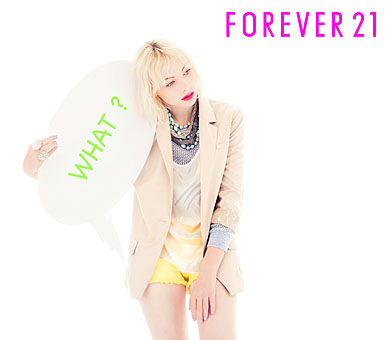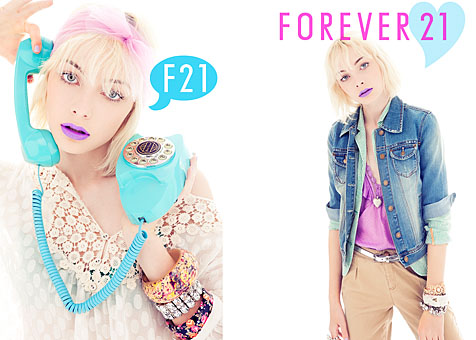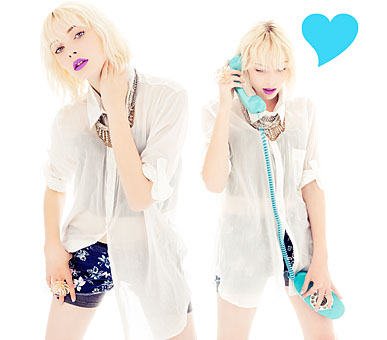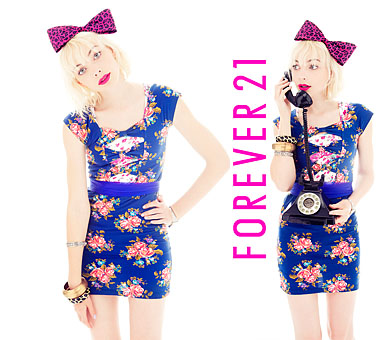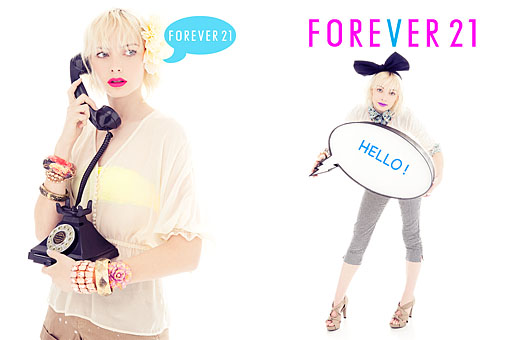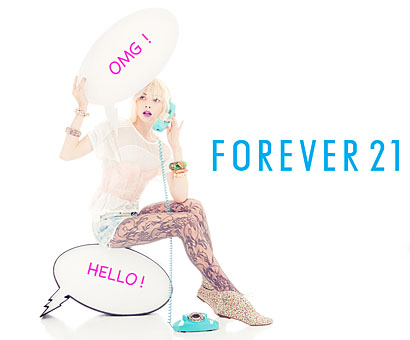 Here is our latest fashion video from the Urban Planet campaign shoot a few weeks ago in Brooklyn, New York.
Urban Planet is a cool fashion retailer from Canada and this season they were going for a bit of a grunge style.  It's always fun for me to shoot with these guys because it's a different style than I normally do, a bit moodier and more dramatic.
I worked with the wonderful Urban Planet art director Ian Mclleland, and production was kept smooth and trouble free by Christine Kelly, and our stylist Kelly Brown put great outfits together and was a joy as always.
I wasn't going to have the time or the budget to bring my full crew and equipment package from Los Angeles, so Jacob at CSI Rentals put together everything for me from scratch.  I was a bit nervous about working with assistants provided by a rental house, but they turned out to be the most professional and hard working group of guys I have ever come across!  Thanks Tom Judge, Mark Glenn, Justin Conly, and David Chow!
To make things easier on myself I rented the Digital, Lighting and Grip Van package from CSI….. basically a vehicle that is full of all the equipment you would ever need on a location photo shoot.  This service is common place in Los Angeles, we use them all the time, but as far as I know CSI is one of the only companies that provides this in New York.  I have to say, it was a pleasure not to have to travel through the airport with my usual six giant Pelican cases of equipment!
We shot the video at the same time as the still photoshoot, which is always a massive challenge.  We don't want to slow the still shoot down because we still need to get about 20 or so shots done in a day, but at the same time we want to do MORE than just a simple behind the scenes video.  It's just a matter of dividing our forces.  My cameraman is Christian Stoehr who has a lot of experience shooting television and feature films, so he has a good eye and is used to the run and gun style of shooting this requires.
We go into the shoot with an idea of a story we want to tell on video, map out some shots, and I give as much direction as I can. During the shoot, whenever I have time I'll stay with him and direct the scenes, but since I'm still responsible for getting the still shoot done, I often have to leave him to his own devices.  For this shoot I made sure he also had a camera assistant since we were at a pretty rough location on one of the hottest days of the year in New York.  And the assistant really earned his money that day, there was a point when he almost passed out from the heat!
We shot this on the Canon 5D equipment, and for this one we only had a tripod and a RedRock shoulder rig….. we didn't have the room to bring the steadycam and slider from L.A.  One thing we have learned with the Canon 5D is that you have to load a cinematic Picture Profile when shooting video….. it mimics shooting on color negative film, sort of flattens out the color, exposure and contrast.  This gives us much more leeway in our color and exposure adjustments in post, and lends the final product a more cinematic feel.
This is also the first video that I have edited completely on my own.  I fought learning Final Cut Pro…. I didn't want yet another super intensive piece of software in my brain…. it must be getting completely filled up in there by now! 🙂  But I've realized unless I really knew software and workflow, I was never gonna get the results I wanted.  Filmmaking is a much more collaborative process than photography, but everyone still needs to have a background in everyone else's job to be able to communicate effectively.  So now that I understand Final Cut and the editing process, I feel like I'm going to be a lot better at working with professional editors on my future videos.
So hope you enjoy the video, and below are a few of the still photos I pulled off the Urban Planet website.  I'll get around to editing this shoot and retouching these for my portfolio soon.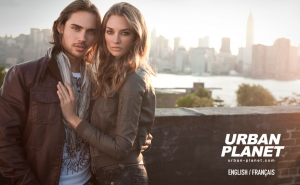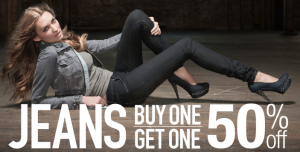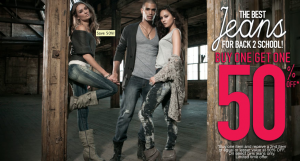 Here are a few photos from a studio swim shoot we did for Forever 21. I love this light, so crisp, vibrant and simple….. it makes the models and the clothes really pop! There is no secret to it, it's just a single light pointed directly at the models. It won't work in all situations but it was perfect for this kind of shoot.