Archive for the 'Random Talk' Category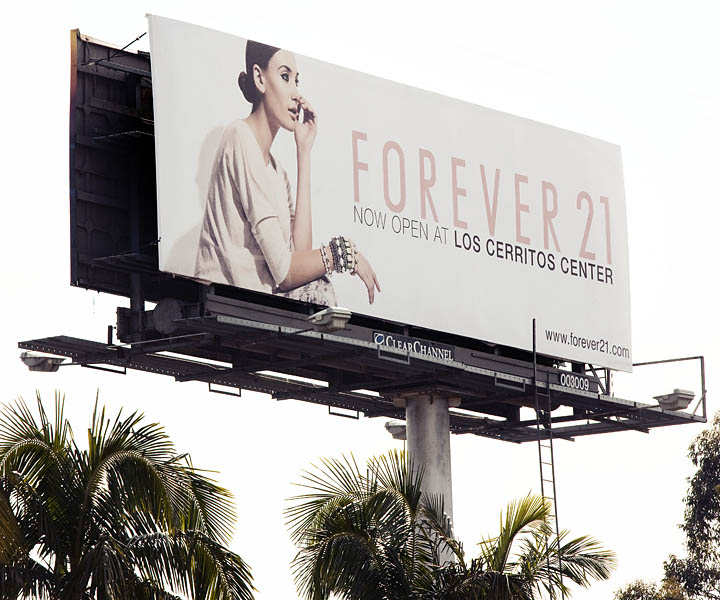 It's always fun to see your work blown up to a really large format, so it was great to catch this billboard along the freeway in Los Angeles with one of my images.
I've been asked a few times if we have to use an especially high megapixel camera to shoot for billboards.  It may seem like you would need a huge file to enlarge to billboard size, but that's not the case as the Dots Per Inch of a billboard is actually pretty low.  I currently shoot most of my work on the Canon 1DS MarkIII or the 5D MarkII, and those files enlarge to billboard size without any problem.  Occasionally I'll use a high megapixel digital back for jobs, but that is more of an aesthetic choice, for instance if I want especially sharp files.  This can be helpful if we anticipate a lot of compositing of images in post and want to be able to zoom deep into an image.  But the Canon camera works great for 99% of our jobs. It's quick, easy to handle and really rugged, which is more important to us than having tons of megapixels.  Frankly, I think camera manufacturers are far too obsessed with making cameras with higher and higher megapixels, when they really should focus on creating cleaner files, more useful features, and better workflows off the camera.  There are a lot of features on my wish list for the "perfect" camera, but I have a feeling I'll be waiting a long time for that…..
I was just reminiscing with an old friend, another photographer, on how when we began our careers we felt busy doing two or three jobs a month. Now four a week is normal, I love it!
I have put a lot of standard processes into place to allow us to work this often…. streamlining how we manage our equipment and crew needs, having an iron clad digital workflow, getting our production down to an efficient science.  Even the office work and accounting needs to be really well organized for our business to run back to back jobs like this.
Being a photographer is an interesting proposition…. you must have a perfect right brain / left brain balance to be successful.  You have to be highly creative to produce exciting imagery, but at the same time you must be super organized and have a good head for business.  There are photographers that lean a little more to one side or another, but I can't think of any successful photographers in the commercial world who only have one side of this equation going for them.
I had a job recently with a new client, a project that was going to be a somewhat large and challenging production.  I'm happy to say we pulled it off beautifully.  But we have our productions down to a science, so I never had any doubts!
Still, it was great to hear the boss was really happy with our work.  Here is an excerpt from an e-mail distributed within the company that someone was kind enough to forward to me:
"Wanted to Congratulate everyone on their participation in the shoot. I was very impressed with the photographer, who was very professional and no drama, the other photographer we have been using is super creative, but so high maintenance, it made yesterday a pleasure."
It brought to mind a quote by Polly Mellen, an iconic figure in the fashion world.  I just wish I could remember it exactly……  The jist was that Polly only wanted to work with photographers that were especially high maintenance and difficult, because she felt they were the only ones who were creative enough to do great work.  (Bonus points for anyone that can send me the actual quote).
When I started as a fashion photographer, this sentiment was on my mind.  I worried that I might not ever be successful because I just don't have it in me to be a diva.  Sure, I can have a strong opinion on how I would like a shoot to look, and will certainly make that known.  But I always prefer to have a relaxed,  collaborative and nice mood on my sets.  And ultimately my job is to make the client happy with the work they are paying me to do for them.  Sometimes I might like to shoot something a bit differently than the client prefers, but at a certain point we just have to let go and get the job done.
Thankfully, I have managed to build a successful career, and never even had to resort to becoming a high maintenance diva!
Okay, enough patting myself on the back 🙂
Okay, this has nothing to do with fashion photography, but it's really cool!  As some of you may know, when I was younger I raced bicycles professionally and am still an enthusiast of all things on two wheels.  That is why I love these Derringer Cycles.
They are retro styled motorcycle / bicycle hybrids, basically mopeds that don't require a motorcyle license to operate and get 105 miles to the gallon!
I first noticed them in front of a small shop while driving down 3rd Street in Los Angeles.  So I was excited to see them mentioned in the Trend Land Blog yesterday.  It's a perfect moment to make something like this popular now that even downtown hipsters are obsessed with riding their fixed gear bicycles everywhere.
By the way, my birthday is coming up on March 31st…. hint, hint! 🙂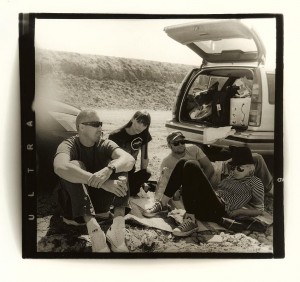 If you follow my Twitter feed, you saw that I was shooting a swimsuit story at the Salton Sea this past weekend.  I'll have a sneak peek of the images up in a few days, but in the meantime I wanted to show you some images my assistant, Marco Sanchez, shot with a Holga camera while we were there.
The Salton Sea is a really unique location and attracts a lot of professional photo shoot productions, as well as thousands of photo enthusiasts.  We were there on a sunday in one single spot, and saw probably in the neighborhood of 30 or so photographers come out to snap around with everything from 4×5 field cameras to little point and shoots.
It's a bit of a drive from Los Angeles, but definitely worth checking out.
Check out my best friend's website!  www.ambushstudio.com
Juan Brenner moved to New York City from Guatemala just a little after I did to pursue a career in fashion photography.  He began shooting frequently for a cool little magazine from Guatemala called TAXI. Since it was a small magazine, he had a lot of influence into the overall design, which eventually led to him becoming the Art Director.  Under his stewardship, the magazine won inclusion into Taschen's guide to the best graphic design of Latin America.  Around a year ago he opened his art direction / design studio and has since garnered some impressive clients all over the world.
And he has a great blog at www.ambushstudio.blogspot.com/
My Christmas holiday mostly consisted of too many hours in front of the computer catching up on organization, editing, and retouching work that has been building up over the last 6 months.  I was just too busy shooting to keep up with the daily office work that comes with any kind of professional photography. But with unusually cold and rainy whether in Southern California, it wasn't too much of a sacrifice to be stuck indoors.  And I have a completely organized and backed up archive, a new website and this blog to show for it!  And just in time too…. January and February look pretty much booked solid for me, so I'm thrilled I was able to get all this office work out of the way in one fell swoop.
Fashion Photography, and a little bit of Everything Else is the subtitle of my page, and that sums it up.  I hope to give insights into my work as a fashion photographer and also anything that catches my eye.  If you are interested in fashion, photography, or just style and design in general, I hope you'll enjoy what I am doing here.  And if there is anything in particular you want to know or see in this blog, just let me know and I'll do my best to make it happen.
I'm a little distracted….. while I'm writing this, I'm watching the Chinese Grand Prix F1 race that has been on my Tivo since mid October…. this is the first chance I've had to get to it (I told you I've been busy!)  So I'll say goodbye for now and hope to see you soon.