Archive for the 'Celebrity' Category
As the new year approaches it's fun to look back on the world of fashion photography from 2012.  With that in mind, here are a few of my favorite fashion magazine covers from 2012.  What are your favorites??
Love Magazine Special Edition F/W 2012 Covers
Mert Alas and Marcus Piggott – Photographers | Katie Grand – Fashion Editor | Malgosia Bela – Model
LOVE's special edition covers are proof that the dream team of Mert and Marcus & Katie Grand still know how to turn it out better than anyone else. These beauties were only available for a select few, so anyone lucky enough to snag Malgosia's skull shot, or Saskia's painted face on their issue has their hands on a real collectors item.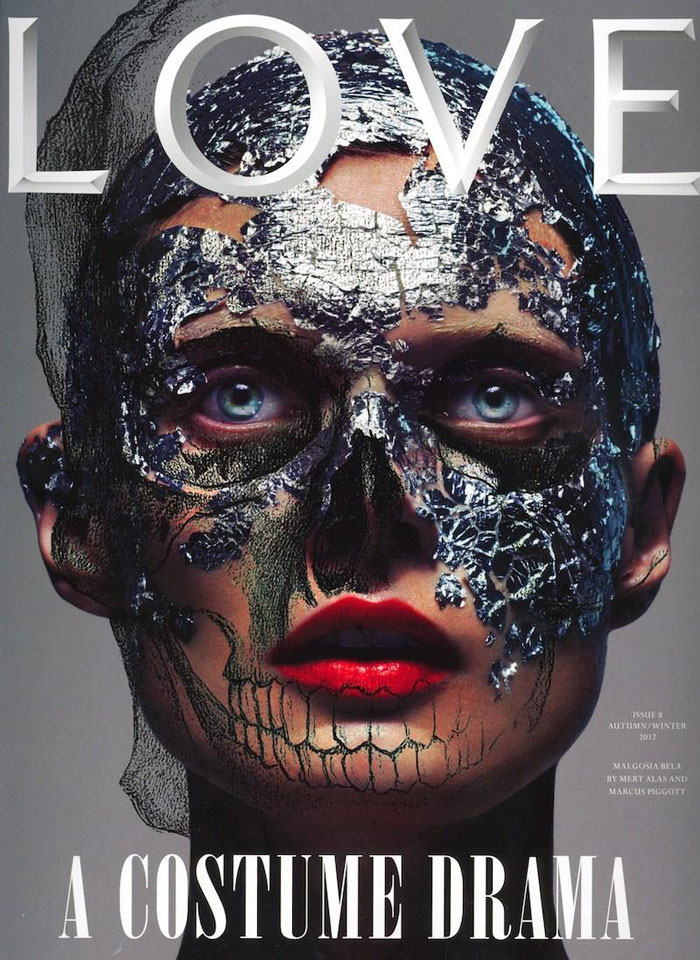 i-D S/S 12 Covers by Daniele & Iango
Daniele Duella and Iango Henzi – Photographers | Luigi Murenu – Hair Stylist | Patti Wilson – Fashion Editor | Stephane Marais – Makeup | Urban Productions – Casting
Nothing beats a refined, well-composed, perfectly lit image of a pristine beauty and for spring Daniele & Iango offered up multiple i-D covers that held to those timeless ideals.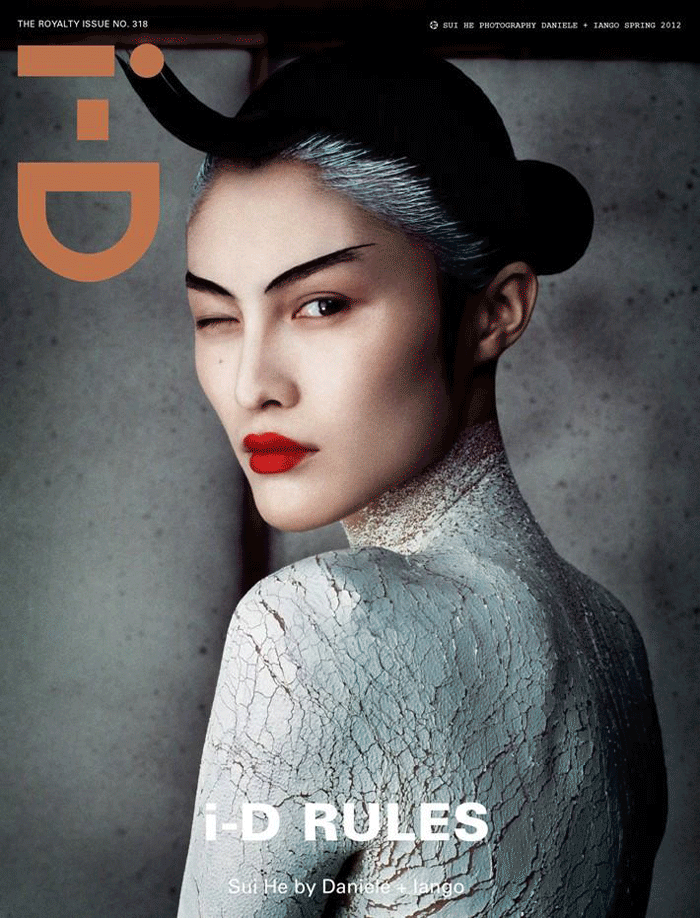 Pop Magazine S/S 2012 Cover
Daniel Sannwald (Paris: Management + Artists, New York: Management + Artists) – Photographer | Tamara Rothstein – Fashion Editor | Tina Outen – Hair Stylist | JJaneen Witherspoon – Makeup | Xavier Poultney – Artist | Angus Munro for AM Casting – Casting | Joan Smalls – Model
Photographers often like to play up Joan Smalls' sophisticated beauty, so it is always fun to see when someone goes in a different direction and creates something wholly original featuring Joan. Sannwald's kinetic shots provide an artistic take on the year's premiere beauty.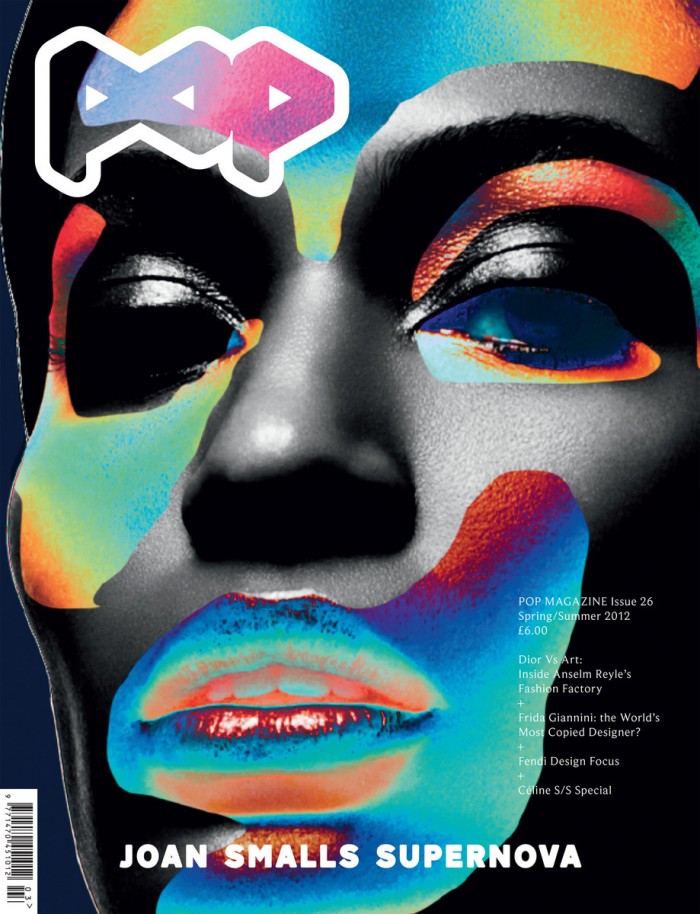 Katy Perry On Interview
Katy Perry on the cover of 
Interview
.
Photo:
 Interview
This is what we were talking about when we said one of the reasons we love magazines so much is because they let our favorite stars step out of the box. We didn't even recognizeKaty Perry on the March issue of Interview, what with the thick eyebrows and KILLER sultry stare. There was no sign of the bubbly pin-up we've become accustomed to, but don't get it twisted, we were definitely NOT mad.
INTERVIEW GERMANY & RUSSIA
STARRING: Kate Moss & Naomi Campbell
SHOT BY: Mert Alas & Marcus Piggott
Fiasco is a monthly print and digital unisex fashion, arts, and lifestyle magazine that has quickly grown in popularity since its first issue. They are always on the lookout for up-and-coming talent and this magazine cover is a perfect example of that. With photography by Phillip Meech, Fiasco commissioned illustrator Hattie Stewart to doodle all over it. Stylist and art director Hope Von Joel is responsible for the impeccable design.
i-D: The Whatever the Weather issue
i-D magazine could be described as the coolest of cool; a fashion, film, music, and culture magazine that showcase their models in only the most stylish of ways. This stunning photo from Chen Man compliments the beautiful colour scheme perfectly, with gorgeous make-up and fashion to boot. Notice that every model that has graced the cover always has their right eye closed or covered.
The Room magazine was founded in 2004 with the aim of reinforcing high fashion and its quality media in Hungary. Only on its 15th issue, the magazine's covers continue to impress. This shot was crafted by photographer Miklós Surányi with fashion editors Ali Tóth and Anikó Virág taking care of the outfit.
W Magazine DECEMBER | Marion Cotillard
An absolute masterpiece, shot by Tim Walker, this cover photo starring French actress Marion Cotillard is selected by TIME as one of the "Best Photographic Magazine Covers of 2012″ for its artistic value. We don't question why.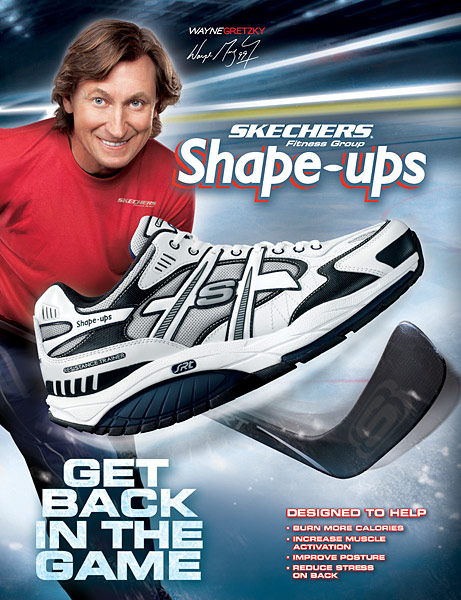 I was given the opportunity to do a photo shoot with Wayne Gretzky for Skechers a little while ago and the ads are just getting out there now so I thought I would say a few words.
If you don't know, Wayne Gretzky is an icon of sport, widely regarded to be the best player ever in the National Hockey League…. his nickname "The Great One" says it all.  I have to admit, I don't know much about hockey (I had to ask Wayne what the hockey stick was called….. turns out it's a "stick" 🙂  but even I was familiar with his career and was really excited to meet him in person.  One of the wonderful things about being a photographer is experiences like this one, it's always a thrill to meet people who have reached the pinnacle of their chosen profession, whether it's sports figures, artists, or business people.
Wayne happened to be in Las Vegas as part of a Hockey Fantasy Camp he puts on there, so we flew in for the day to shoot with him. We brought our standard lighting and camera/digital kit with us, but JR Lighting & Grip in Las Vegas delivered everything else we needed to the Venetian Hotel where we built a little studio in a suite.  It was a pretty quick shoot, we probably only had Wayne on set for about 30 minutes.  But it didn't feel rushed, and Wayne was fun and gracious and just a really nice guy in general.  He even hung out with us after the shoot a little and shared some stories from his years as a sports superstar, and was nice enough to sign some hockey pucks for us!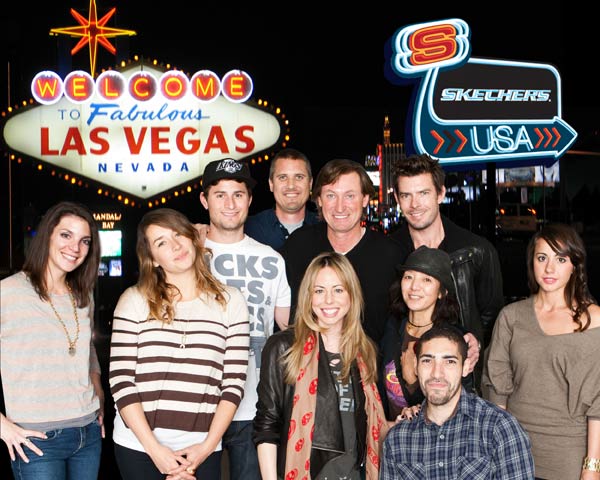 The Skechers and Kilkus crew with Wayne Gretzky.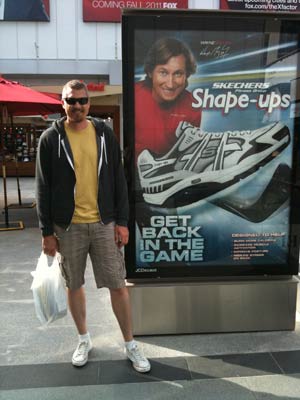 I was doing a bit of shopping at the Century City Mall in Los Angeles today when I came across this outdoor display of the ad.  It's always exciting to see your work in print, so I couldn't help getting a quick snapshot next it!  Keep your eyes out too, I've heard they are using the ads in the security bins at most airports now.  I wonder if that will help me get through the security lines any faster! 🙂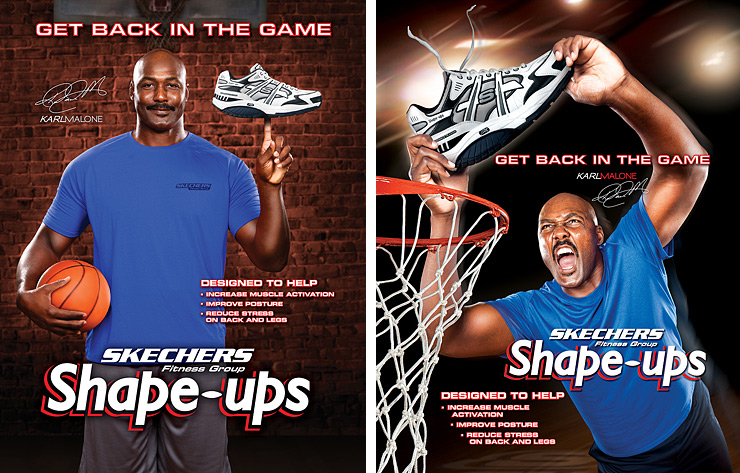 I had the opportunity to shoot with NBA star Karl Malone for Skechers, and what a fun shoot!  Karl is known as The Mailman because he "always delivered" during his 19 career for the Utah Jazz and Los Angeles Lakers.  And despite being a sports superstar, he really is one of the friendliest, most humble and hospitable people you could hope to spend time with.
We flew in with the wonderful crew from Skechers to Louisiana to shoot with Karl near his home.  For this shoot we had to fly in ALL of our equipment since there were no nearby rental houses.  It's not a big deal since we have our entire photo kit packed up in Pelican cases.  One for lighting, one for stands, one for grip, and one for digital… cameras are always carry on of course.  The only thing that becomes a challenge are sand bags… who wants to pay hundreds of dollars to fly sand around!  I've tried those travel sand bags that you can fill up with water or dirt when you get to the location, but they are so dirty to deal with and aren't really heavy enough anyway.  So what was the solution?  You have to love this… my assistant Marco came up with the idea of buying masonry bricks when we got to town.  Brilliant!  Picked them up at the local Home Depot for about $3 each, which saved us hundreds of dollars in airline excess baggage fees!  See them in action in the behind the scenes photos below.
We converted the local indoor basketball court into our photo studio.  Another thing we do is put tennis balls on the bottom of our lightstands and tripod to protect floors from getting scratched up, something the location people really appreciate.  We picked these up at the local WalMart… this is Louisiana so it was right next door to the Home Depot!
All in all, we had a great shoot with a great crew and client, and had loads of fun trying out the local cuisine and exploring the area.  See the evidence below 😉
Karl mugging for the camera and the wonderful Skechers and Photo crew.

Karl is an avid hunter, it almost takes on a spiritual element for him… love his fully camouflaged truck and jacket!  And for comparison sake, I am about 6'3″ and he towers over me!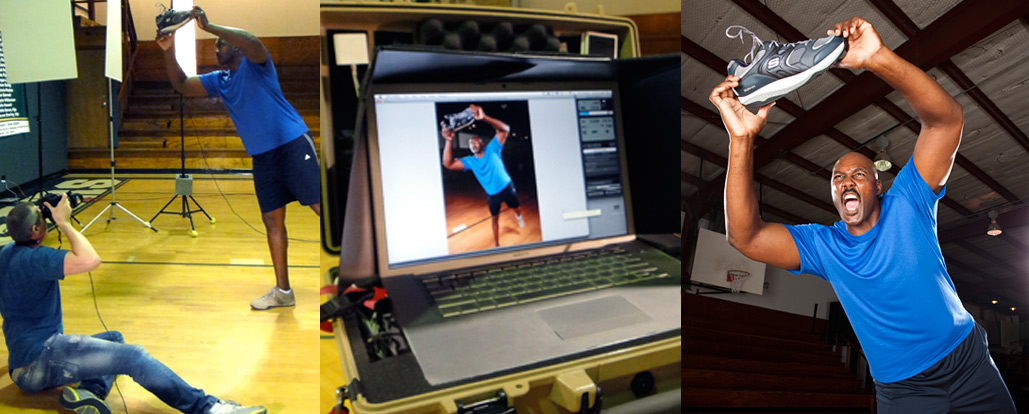 Here is the raw capture of the final ad.
Some more behind the scenes below of us having too much fun on the shoot. Karl pointing out a hole in my pants! And those are Karl's pants that could fit TWO of our client inside them! And if you are curious he wears a size 16 shoe.
Not long ago I shot a music packaging job for a CantoPop singer from Hong Kong named JW.  I just saw the campaign is starting to go live so thought I would share.
JW, or Joey as I know her, is with A Music, the Hong Kong record label of CantoPop superstar Leon Lai.  He's married to a good friend of mine, the model/actress Gaile Lai, a super star in her own right.  Gaile was acting as creative director on this job, and decided to fly in to Los Angeles for a couple days.  We did a one day photo shoot, and one day of video work, some of the results you can see below. Make sure to watch the 2nd video so you can see how fast I can run backwards… Oh my, how'd that scene end up in there!!
You can also check out JW's web page at http://sheisjw.com to see a little more about her.  Especially helpful if you read Cantonese 🙂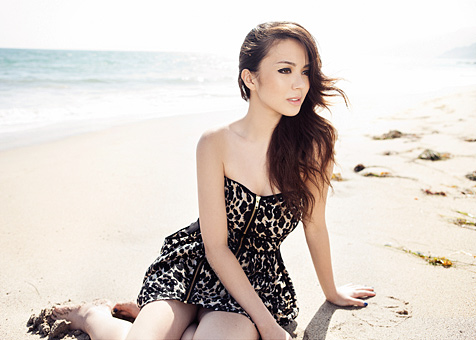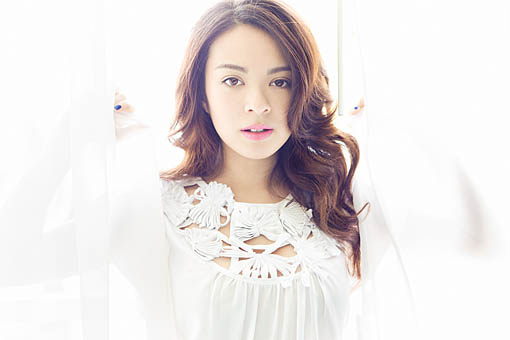 JW Behind the Scenes video from Christopher Kilkus on Vimeo.
JW Behind the Scenes Video 2 from Christopher Kilkus on Vimeo.
JW Behind the Scenes Video 3 from Christopher Kilkus on Vimeo.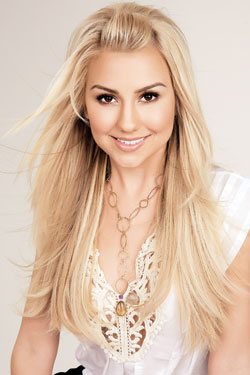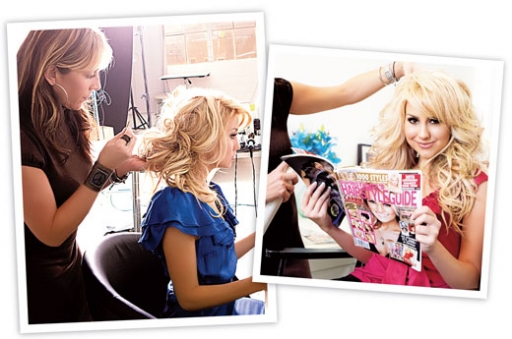 I was browsing around online this morning and came across these photos….. They looked vaguely familiar, and then it dawned on me… I shot these!  I completely forgot about this shoot.  It was a couple years ago at my old studio in downtown Los Angeles with Chelsea Staub, one of the Disney Channel's music, TV and movie stars.  We shot for Sophisticate's Hairstyle Guide magazine.
One interesting thing I remember about this shoot was that the client couldn't actually come to the shoot, so we set up a computer with a webcam pointed at the set so she could watch the shoot from her office in Chicago.  We gave it an angle so she could see both Chelsea on set, and the computer monitor so she could see the images as we captured them.  We even had microphone and speakers so we could easily communicate with her as we shot.  It actually worked really well, it was like having the client sit on set with me like any other photo shoot.
Could this be a trend in the future, clients managing photo shoots remotely from webcam?  They can even use a remote controlled webcam robot like this to roam around the studio and peek in on the styling, and make sure hair and make-up is moving along smoothly, even chat up the crew by the catering table.  Or imagine an advertising job with a whole group of clients attending remotely…. you could have a half dozen of these little robots running around the studio!  Okay, that might get a little annoying.  But on the bright side, if the client's robot get's in the way you can always just pull the batteries out! 🙂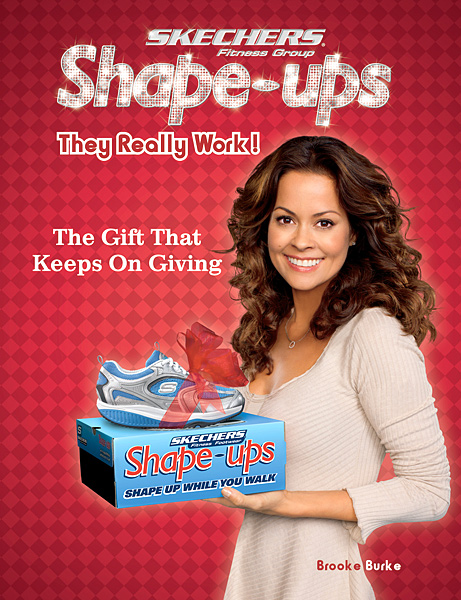 Here is a very recent ad we shot for Skechers with Brooke Burke.  You may remember her from the "Wild On" travel series on E!, and of course countless men's magazines.  Well she's a mom of 3 girls now and even has her own line of mom and baby products at babooshbaby.com
We shot at the same time Skechers was filming a TV commercial with her on location in Los Angeles.  These kind of jobs are always a challenge as our still photography crew definitely plays second fiddle to the film crew.  We went into the day understanding that we would only have about an hour with Brooke to shoot the ads, and we were scheduled to get her at about 3PM.  We had to set up our little studio in the driveway of the location… definitely not a plush situation, but to be expected for this kind of shoot.  We were ready to go at 3, but didn't get Brooke until about 6PM, well after the sun had gone down.  Again, it's sort of expected so we were prepared to shoot in the dark.  But because the TV commercial was now running late we had a grand total of only 12 minutes to shoot our ad!  It meant we had to get Brooke into position and just shoot and shoot as much as I could fit into those 12 minutes.  I crossed my fingers that we didn't have a technical glitch… even a simple crash of the computer would have wiped out our entire shoot time.  But everything worked flawlessly and we managed to get in 290 frames and about 3 different set ups, a decent amount for the client to work with.  And Brooke was a pro, every frame we shot was usable which is really rare.
.
This is cool, an artist named Howard Shum used my photo of Lyndsy Fonseca for an illustration.  She's the actress I shot for Maxim Magazine that starred in Hot Tub Time Machine and Kick Ass.  And it was perfect timing, I got his email letting me know about the illustration WHILE I was watching the movie Kick Ass!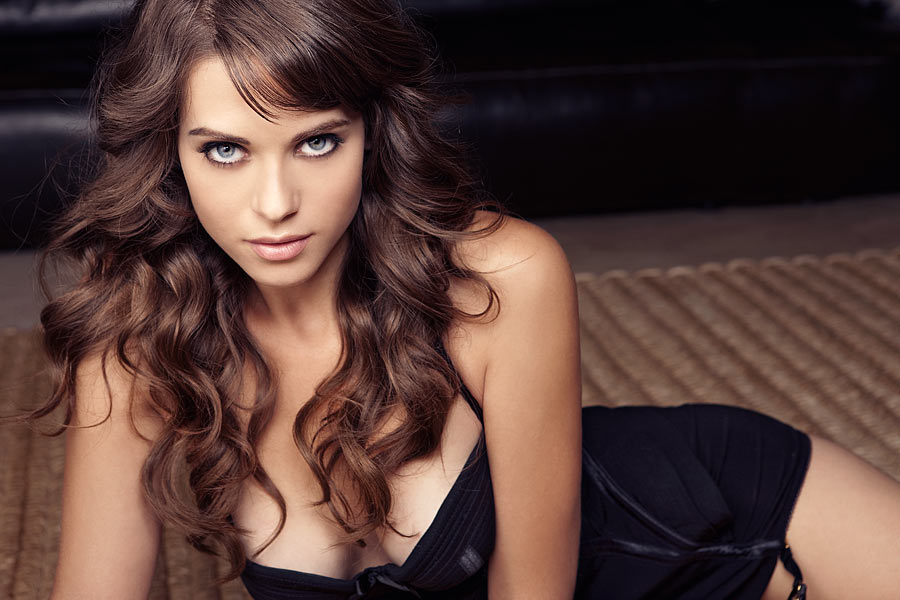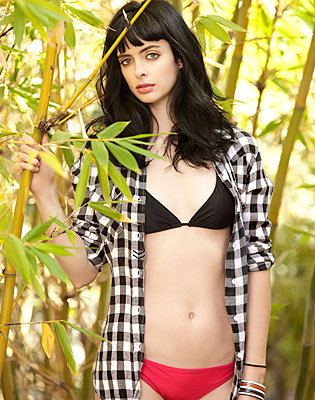 Last weekend I saw the movie She's Out of My League, which co-starred the lovely Krysten Ritter. I shot her a short while ago for Maxim Magazine so I thought it would be a good time to add the photo here.  I was excited to shoot her because she plays a really compelling character in one of my favorite shows on TV, Breaking Bad.  It's always nice to shoot with people I admire, and she turned out to be a really sweet and funny person, which made it even better.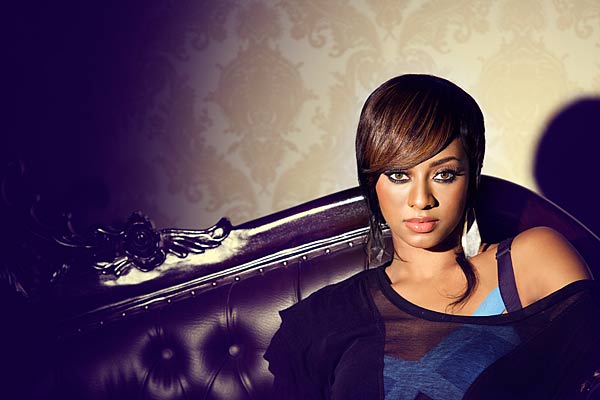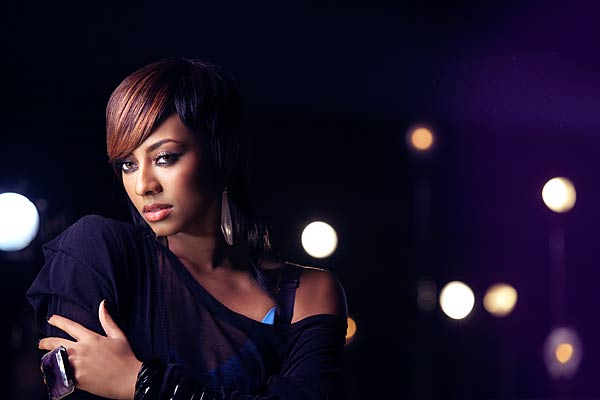 A few images from a photo shoot with the singer Keri Hilson.
Here is a recent photo shoot I did with the actress Navi Rawat, a prolific TV actress from shows such as the O.C., 24, Angel, FlashForward, and currently can be seen starring in the hit show Numb3rs.